News
COVID-19 Virus Policy:
Our office is open to members (you can still come to the window as well). When applying for a loan, if at all possible call or email ahead so that we can get paperwork started. This will minimize the length of time you are waiting.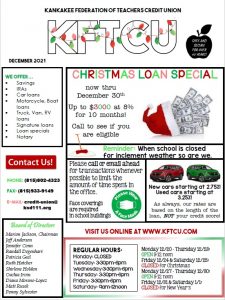 GAP insurance:
We offer GAP insurance on new and used vehicles. The price of the policy is $240 and it covers the duration of the loan.
Loan Add-On Policy:
Signature loans: minimum add on amount of $200
Collateralized loans: minimum add on amount of $500 and a maximum number of 3 add-ons to the same loan in a calendar year
Has something changed?
Address
Phone number
School
E-mail
Marital status (including name change)
Please email, call or visit us to update your personal information on our records.